Seagrave (1975)
Sale price:
US $6,000.00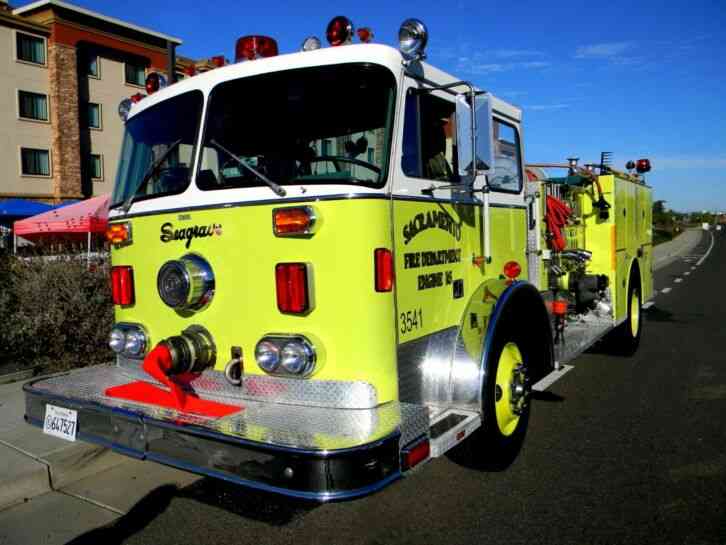 More Seagrave Emergency & Fire Trucks
This Sacramento (CA) 1975 Seagrave Pumper was on front line service until 2003. A complete detailed history of this engine can be found at: www (dot) engine-16 (dot) com and includes all preservation efforts, complete specifications, list of all repairs or modifications, events, and history on this pumper. It also includes a photocopy of original title, invoices, instructions, Seagrave Parts books, pump maintenance and myriad documentation from the time I purchased the vehicle in 2008.
This Seagrave pumper makes a wonderful parade vehicle, movie prop, learning tool or museum piece. Like all Detroit diesel engines, it smokes upon startup until warmed up. This Seagrave is not meant for front line duty, but rather as a museum vehicle or for the person who wants to purchase a road-worthy fire engine for private use.
This vehicle has been preserved, not restored. The pump is fully operational and the vehicle is loaded with thousands of dollars worth of extra items: Hoses (2.5, 1.5, 4 LDH, 1 booster) nozzles, tools, Storz adapters, hydrant wrenches, halligan tool, bolt cutter, SCBA gear/tanks, masks,Co2 extinguisher, O2 bottles, water can, traffic cones, hose belts, batterychargers, rear view camera system, VHF Motorola radios & manuals, all documentation, David-Clark Intercom system & 4 headsets, Whelen LED emergency lights, Whelen Traffic Advisor, 2 pick axes, back board, records and a clear title as a California historical vehicle.
I truly wish this fire engine can be appreciated for its absolute completeness and finds a good home so others may enjoy it. Asking $12,500, OBO. A modest reserve applies.
Naturally, should you have a question, contact me via the website Contact page. The website is personal and not a commercial one.