Oldsmobile 98 (1968)
Sale price:
US $6,000.00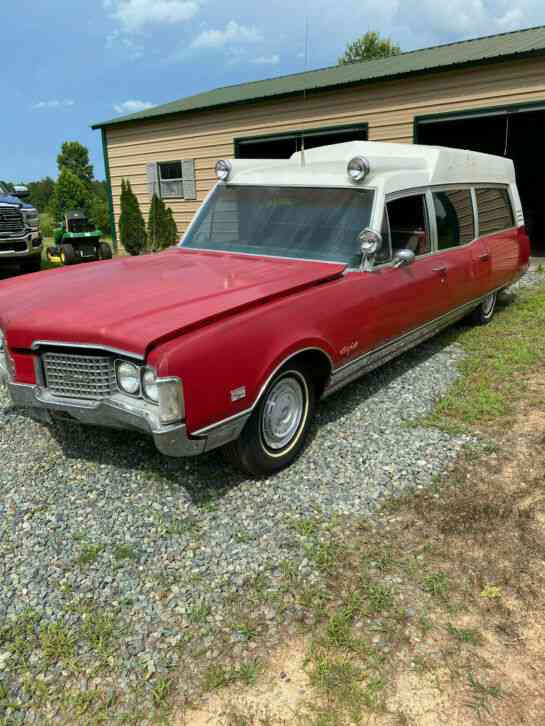 More Oldsmobile Emergency & Fire Trucks
Known history: This is an Arizona car and at some point worked for the Fallbrook AZ Fire Protection District. Some of the original maintenance records are still in the vehicle. It appears an AZ Automotive business bought it, then a friend of mine purchased the car several years ago and brought it to NC. I purchased the car from him, and since coming to NC it has been in dry storage. I have owned the car for about 3 1/2 years. The car does not have a title and will be sold with bill of sale. I"m unsure if the odometer is correct mileage.
The car runs and drives however IS NOT road worthy. It needs more brake work, a tune up, wiring cleaned up, etc.. The car did suffer a small electrical fire in the engine compartment near the heating unit. This did damage to the wiring harness in that area. I believe the cause may have been an auxiliary electrical heater the company originally installed, but this is just a guess. Anyways, it did not do a lot of damage. AC/ and Heater components are there but not hooked up. According to the motor block casting I believe this is a genuine 455 Rocket motor, however I have no idea if it"s the original, or what internal work has been done if any. I"m including a Olds Shop/Service manual on CD with the car.
Since owning the car I have installed the following: New Battery (now almost 4 years old but works no problem), 4 new Nexen Whitewall tires, new front brake calipers with pads, brake hoses. New spark plug wire set, cap, rotor. New radiator hose, new fuel lines. Included in the sale is a revolving red light (works), Extended mirrors for front doors (mounting holes in doors), a Motorola radio head, mic, speaker (for display only), and a siren box w/ speaker (untested).
Exterior: The car had stickers and decals mainly on the white top, and I removed these. The impressions remain and in some small places the white pulled up and left red. The car body is solid with no rust or rot anywhere. The doors all hang and work properly. The red paint is faded. This car would look amazing with a fresh coat of red and white paint! There are some small dings and dents which are typical with a car of this age. The rear bumper has some surface rust where the chrome came off. All exterior trim is in place, and all glass is good except for a very small chip on the passenger side windshield.
Interior: The interior is all original and is in fair condition for it"s age and years of sitting. The zippers on the front headliner need to be repaired. The wiring inside needs to be cleaned up. My guess is that when the emergency equipment (radios, siren etc) were removed they just left the wiring hanging. The ignition switch needs to be put in place, and the AM radio is missing. Most all the regular electrictal stuff (wipers, horn, lights) work. The dash and steering wheel are not cracked. In the back the headliner is intact, as are all the original cabinets. Some of the seat cushions are split in places. It needs a good cleaning from sitting.
Fine Print: Overall this is a good, solid car, and a beast. It is right at 20 feet long, and is HEAVY. I don"t have the time to put into it anymore, but with some work it could be a real head turner going down the road. It is being offered for sale as is, where is, with no warranty either expressed implied. I reserve the right to pull the listing at any time. I"m not a professional mechanic, and there may be other defects with the car I"m not aware of. I encourage to ask any questions you have or get a pre-buy inspection if you"d like. I will not ship, however I will do my best to the extent possible in assisting with loading. I will only deal with persons in the lower 48 states. I require a $500 deposit and your contact information at the close of purchase, with full payment due within 7 business days. I will accept a bank check, direct wire transfer, or in person cash. If paying by bank check I will not release the car until check has cleared both my bank and issuing institution. And finally, I have done my very best to do a very detailed, honest, description of this vehicle. I am looking for a clean, hassle free transaction. Scammers, players, hustlers,or deadbeats, if this was the last car for sale in America I can assure you this car is not for you, it just would not be worth your time.

| | | | |
| --- | --- | --- | --- |
| Condition: | Used | Year: | 1968 |
| VIN (Vehicle Identification Number): | 398608M203748 | Mileage: | 54031 |
| Type: | Ambulance | Engine Make: | Oldsmobile |
| For Sale By: | Private Seller | Make: | Oldsmobile |
| Engine Horsepower: | 455 Rocket | Number of Axles: | Single |
| Vehicle Title: | Not Available | Transmission Type: | Automatic |
| Model: | 98 | Fuel Type: | Gas |