International 4300 Lo Pro (2007)
Sale price:
US $15,000.00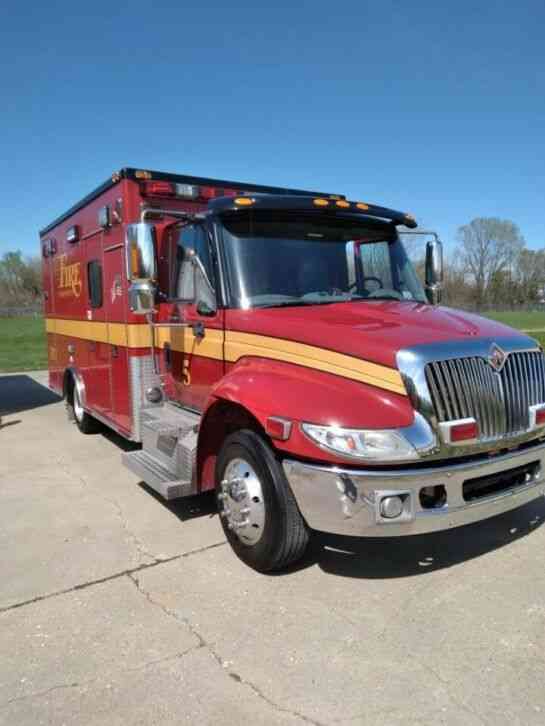 More International Emergency & Fire Trucks

2007 INTERNATIONAL 4300 Lo Pro! 1 OWNER! VERYNICE!
Please read entire listing description and all terms and conditions before buying.
LOCATEDIN ROCK FALLS, IL
VIN#:1HTMNAAM17H434839
Title:Clear
Make: INTERNATIONAL
Model:4300 Lo Pro
Module: MEDTEC
GVWR: 20,000
Mileage: 103,027
Hours:11,408
Wheelbase:168"
Dimensions:
9ft. 6in.overallheight
72" floor TO ceiling
14 ft. long 8 ft. wide
23ft. long overall
Location: Rock Falls, IL 61071
2007INTERNATIONAL 4300 VERY NICE! It has a DT466 engine and has a 5speedAllison automatic transmission. The vehicle starts, runs, drives,shifts, and stops great! It has PLENTY of power and there is no smokeon start up or when driving. It has 103,027MILES. The GVWR is 20,000 pounds. This unit is UNDER cdl. It is has aMedtec Module. HYDRAULIC BRAKES AND AIR RIDE DRIVER"S SEAT!
The vehicle comes with theFactory-installed ambulance prep package; ENHANCED ELECTRICAL SYSTEM;an extra-large radiator, oil and transmission coolers. IT has a highoutput alternator, frame reinforcements etc. There has been a Freshoil, filter, lube and coolant change. The unit oxygen and suctionequipped. Automaticoxygen lift cylinder.
RECENTSTATE SAFETY INSPECTION! PRE EMISSIONS.
NOLEAKS! NO BLOW BY! NO ISSUES!
CERTIFIEDSTAR OF LIFE!
NON-SMOKINGUNIT!
The Glass is in PERFECT condition, there are no chips, cracks, or fogging! The Interior is inPERFECT shape and is nice and clean! There are No rips tears,stains, or smells. ANY exterior dings, and scratches are associatedwith normal use. Stripes are vinyl easy to remove, some decalimpressions may remain. No rust on body. Only minor rust on chassis.Somecorrosion on module. Surfacerust on undercarriage. There is rust on the battery box. The TIRES ARE six 19" matched radials with 90% tread life.
Options include: DOOR THROUGHFRONT AND REAR, TILT/CRUISE, POWER WINDOWS, POWER DOOR LOCKS, POWERSTEERING, POWER DISC BRAKES, AM/FM/CD , A/C AND HEAT FRONT AND REAR,BOTH WORK GREAT!! IN FRONT AND REAR, Automatic oxygen lift cylinder,AIR RIDE DRIVER"S SEAT AND HYDRAULIC BRAKES
EXCELLENTUNIT!!!
LOCATEDIN ROCK FALLS, IL
PRIDEOF OWNERSHIP SHOWS! BUY WITH CONFIDENCE!
Cleartitle!!!!
LOCATEDIN ROCK FALLS,IL 61071
CALLTODAY! 815-213-2209
If you call and do not get an answer please leave me a voicemail and/or email me with any questions.
5 and less feedback buyers need to CALL us before buying for verification purposes 815.213.2209
Buyer is responsible for contacting me, a $500 deposit is required within 24 hours of sale close, and full payment is due within 7 days of sale close. CASH is required when picking up vehicle IN PERSON. If you are paying by CHECK a minimum of 10 Business Days is required from the time the check is deposited until the release of the vehicle. Buyer is responsible for shipping/pick up of vehicle. I accept Paypal for DEPOSIT ONLY. NO REFUNDS! Vehicle is stored in a locked, secure and climate controlled warehouse.
Please note that vehicles left longer than 30 days after sale will be subject to a storage fee unless prior arrangements are made.
PLEASE READ ALL OF THE LISTING AND THE TERMS AND CONDITIONS OF BUYING, WE ARE OPEN TO ANY AND ALL QUESTIONS. WE ARE HERE FOR YOU! CONTACT US THROUGH OR BY PHONE.

Condition:
Used
Year:
2007
VIN (Vehicle Identification Number):
1HTMNAAM17H434839
Mileage:
103027
Transmission Speeds:
5 Speed
Number of Axles:
Single
Engine Make:

International

Suspension Type:
Air
Make:

International

Model:
4300 Lo Pro
Transmission Type:
Automatic
Class:
Class 6 (19,501-26,000 lbs.)
Fuel Type:
Diesel
Power Options:
Air Conditioning, Cruise Control, Power Windows, Power Locks
Type:
Ambulance
Vehicle Title:
Clear
For Sale By:
Private Seller