Pierce (1995)
Sale price:
US $15,000.00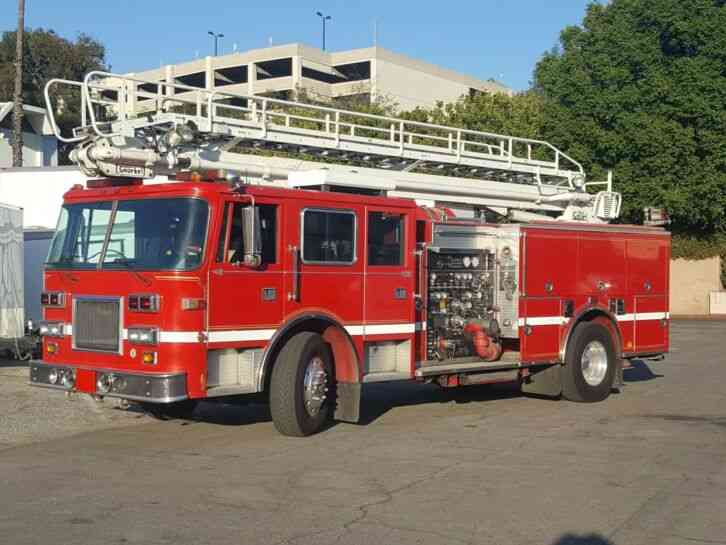 More Pierce Emergency & Fire Trucks
1995 Pierce Arrow 50 foot ladder truck with articulating Telequirt nozzle on the end of ladder. Nozzle controlled from rear deck board. Waterous brand water pump, 1500 GPM at 150 PSI. Foam capable with A and B chemical tanks. 500 gallon water tank. 1.5 inch red line in retractable spindle on both driver"s and passenger"s side. Several hose connection points from engineer"s panel, passenger side panel, hose bed and rear deck board as well has front bumper.
Truck has 103,385 miles, Cummins M11 motor, Allison automatic transmission, AC/Heat, seats six. All emergency lights and siren function properly. Ladder, water pump and outriggers all work properly. Side ladder (not included) has Zico electric arms to lower and raise ladder for easy and quick removal. No rust anywhere. Tires in great shape. All glass in great shape. Seats have some wear and paint is a little faded but buffs out nicely. Runs and drives great. Nothing weird or unusual with this vehicle. It is deployment ready.
We are an emergency vehicle dealer who rents vehicles for motion picture production. This ladder truck came from the City of Long Beach, California in Southern Cal. No snow or foul weather exposure. It has been used for film and TV the last two years. It was replaced through scheduled attrition. Not because anything was wrong with it. It is ready for service.