Ford (2005)
Sale price:
US $15,000.00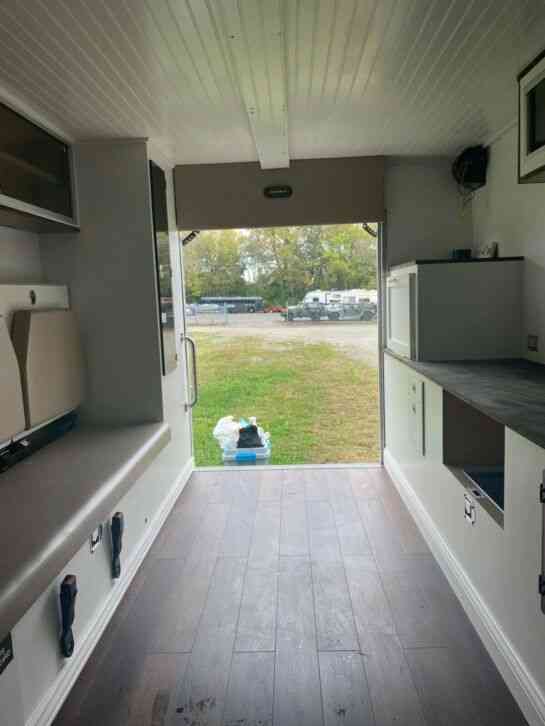 More Ford Emergency & Fire Trucks
2005 Ford E-450 ambulance, box manufacturer is PL Custom.
This is a partially converted ambulance. Alterations made were replacing floor, ceiling, taking out some cabinets and refinishing remaining. Counter top added. Siren and flashing/colored lights were either disconnected/removed/painted over (for insurance reasons). Many components were saved and can be given to buyer.
Perfect for tailgating or for a business. Operates like an RV. Outlets work when vehicle is running or if plugged into shore power. Can seat 4-5 people with seatbelts. Standing height is around 5" 10. Ample interior and exterior storage. Can be converted to an off-the-grid camper by someone with more electrical experience or with the funds to pay to have it done.
Issues to be aware of: the AC is broken. Like most ambulances, the inverter is constantly running which drains the battery. This can be fixed by someone with more experience but in the meantime, when not running the ambulance should be plugged in. Can last around 3-5 days without being connected to shore power. Lastly, the underside of the vehicle has a lot of rust.
If you have questions, please contact me. I have been documenting part of the conversion process on TikTok @cyanideandsage for more detailed look. I will provide a manual to the buyer detailing what has been done to it, quotes from electricians, conversion companies, and PL Custom dealerships in the Ohio/Midwest area if a more local buyer needs a place to start, as well as printed off or PDF schematics of the box from the manufacturer.
To be frank, this vehicle proved to require more conversion experience than I had. Its has a lot of love and potential in it and I would love to see it go to a good home. Recommended for someone with some electrical and/or mechanical experience.