Ford F350 (2008)
Sale price:
US $7,800.00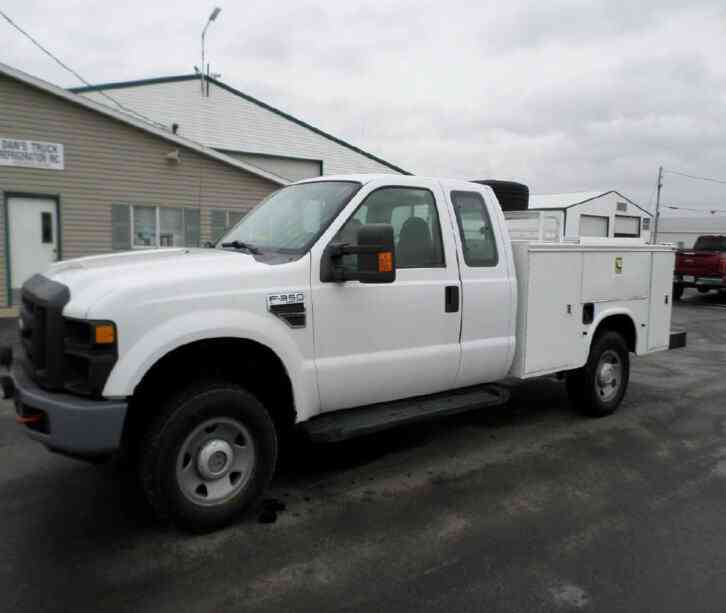 More Ford Utility / Service Trucks
F350 4x4, Service body solid but does have a little rust. Air conditioning, Automatic trans, has some miles on it but it is a good running truck.
Engine MakeFORDTire Size265/70 R17Engine Model5.4FrameSteelEngine HP0InteriorStandardTruck TypeUtilityColorWhiteCDLUnder CDLSerial No.1FDSX31588EB76093Engine BrakeNoMake/ModelKnapheideTransmissionAutoLength/Height8"SuspensionSpringFrame SetupSingleAxlesSingleFloor MaterialSteelGVWR10,000 lbsRefrigeratedNoFA Capacity5,200 lbsTurboNoRA Capacity6,262 lbsA/CYesFront WheelsSteelPower SteeringYesRear WheelsSteelOdometer191,060BrakesHydraulic
Truck is located:
8042 Fremont Pike
Perrysburg, OH 43551
Dan"s Truck Equipment (4one9-eight seven 4 twenty two forty nine)
Business Hours-
Shop/Sales/Office
8am-5pm Monday-Friday
Dan"s Truck Equipment specializes in used truck and trailer sales, full line trailer rental, autobody, truck and trailer repair shop. We are a truck equipment, grain body, hopper trailer, dump body, snow plow and snow plow parts dealer. We do specific orders and we specialize on installations also of grain bodies, dump bodies, hook lifts, and pto systems. $5.00 restocking fee on internet sales, call us if you are not sure what you need, thank you.

Condition:
Used
Seller Notes:
"F350 4x4, Service body solid but does have a little rust. Air conditioning, Automatic trans, has some miles on it but it is a good running truck."
Year:
2008
VIN (Vehicle Identification Number):
1FDSX31588EB76093
Mileage:
191060
Make:

Ford

Vehicle Title:
Clear
Model:
F350
Fuel Type:
Gas