Ford E450 (2010)
Sale price:
US $25,000.00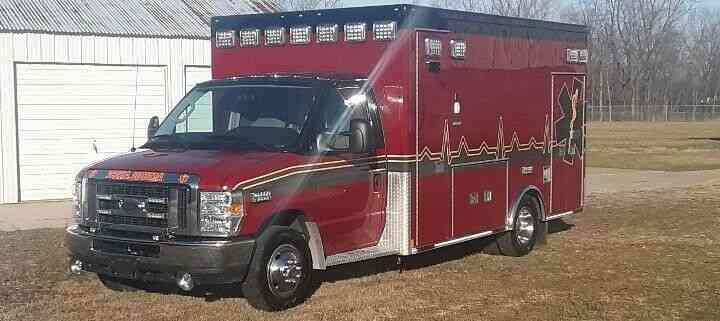 More Ford Emergency & Fire Trucks

2010Ford E-450 6.0 liter Super Duty TURBO DIESEL! 1 OWNER! LOW MILES!
Pleaseread entire description and payment terms before buying.
5and less feedback buyers need to call before making offers orbuying.815-213-2209
LOCATEDIN ROCK FALLS, IL!!!
VIN#:1FDXE4FP6ADA21100
Title:Clear; IN HAND
Make:FORD
Model:6.0 liter E-450 Super Duty Turbo Diesel
Module:MEDTEC
GVWR:(CLASS 4) 14,500
Mileage:JUST UNDER 64,000
Hours:JUST UNDER 2,000
Wheelbase:158"
8ft. overall height
9ft. inside height
74in. inside height to ceiling
23ft. long overall
Moduleis 14 ft long 8 ft. wide outside dimensions
Location:Rock Falls, IL 61071
1 OWNER 2010 FORD E-450 6.0 liter SUPER DUTY TURBO DIESEL AMBULANCE.The unit is VERY CLEAN, in excellent shape and our PRIDE OFOWNERSHIP shows! It has an automatic transmission. The vehiclestarts, runs, drives, shifts, and stops great! It has PLENTY of powerand there is no smoke on start up or when running. It has JUST UNDER64,000 miles and JUST UNDER 2000 hours. The GVWR is 14,500 pounds(CLASS 4). It is has a MEDTEC Module.
500LB STRYKERPOWER COT INCLUDED!!
OWNER"SMANUAL AND MEDTEC MANUAL INCLUDED!
ONBOARD GPS AND BACK UP CAMERA--VERY NICE TOPOF THE LINE MEDTECDISPLAY SCREEN!
The vehicle comes with the Factory-installed ambulance prep package;ENHANCED ELECTRICAL SYSTEM; an extra-large radiator, oil andtransmission coolers. IT has a high output alternator, framereinforcements etc. There has been a Fresh oil, filter, lube andcoolant change. The unit oxygen and suction equipped.
NOLEAKS! NO BLOW BY! NO ISSUES!
ALLLED LIGHTING!
NON-SMOKINGUNIT!
DECALSARE VINYL,EASILY REMOVABLE! SOME DECAL IMPRESSIONS MAY REMAIN
TheGlass is in GREAT condition, there are no chips, cracks, or fogging!The Interior is in GREAT shape and is nice and clean! There are Norips tears, stains, or smells. ANY exterior dings, and scratches areassociated with normal use. Slight rust on driver"s rocker panelonly. No rust on the body. Little to No corrosion on the module..Only MINOR surface rust on undercarriage. IMMACULATE UNIT!!!! Thetires are 6 matched radials with 80% tread life.
Optionsinclude: WINDOW THROUGH FRONT AND REAR, TILT/CRUISE, POWER STEERING,POWER DISC BRAKES, AM/FM/CD STEREO, REMOTE MIRRORS, REMOTE KEY SETS,MULTIPLE COMPARTMENT KEYS( COMPARTMENT LOCKS WHEN DOOR LOCKS AREACTIVATED)
2sets of keys with 2 remotes!!!
ICECOLD A/C in both the FRONT AND REAR
EXCELLENTUNIT!!!
LOCATEDIN ROCK FALLS, IL
PRIDEOFOWNERSHIP SHOWS! BUY WITH CONFIDENCE!
Clear title, inhand!!!!
LOCATED IN ROCK FALLS, IL 61071
CALLTODAY!815-213-2209
Pleasecall for deposit, payment and pickup options. Terms and conditions asfollows: PLEASEREAD ALL OF THE LISTING AND THE TERMS AND CONDITIONS OF BUYING, WEARE OPEN TO ANY AND ALL QUESTIONS. WE ARE HERE FOR YOU! CONTACT USTHROUGH OR BY PHONE..
Ifyou call and do not get an answer please leave me a voicemail and/oremail me with any questions.
5and less feedback buyers need to CALL us before buyingfor verification purposes 815.213.2209
Buyeris responsible for contacting me, a $500 deposit is required within24 hours of sale close, and full payment is due within 7 days of saleclose. CASH is required when picking up vehicle IN PERSON. If you arepaying by CHECK a minimum of 10 Business Days is required from thetime the check is deposited until the release of the vehicle. Buyeris responsible for shipping/pick up of vehicle. NO REFUNDS! Do NOTsend payments to me or paypal without speaking with me. Vehicle isstored in a locked, secure and climate controlled warehouse.
Pleasenote that vehicles left longer than 30 days after sale will besubject to a storage fee unless prior arrangements are made.

| | | | |
| --- | --- | --- | --- |
| Condition: | Used | Year: | 2010 |
| VIN (Vehicle Identification Number): | 1FDXE4FP6ADA21100 | Mileage: | 64000 |
| Engine Make: | Ford | Number of Axles: | Single |
| Make: | Ford | Suspension Type: | Air |
| Transmission Type: | Automatic | Model: | E450 |
| Fuel Type: | Diesel | Class: | Class 4 (14,001-16,000 lbs.) |
| Type: | Ambulance | Power Options: | Air Conditioning, Cruise Control, Power Windows, Power Locks |
| For Sale By: | Private Seller | Vehicle Title: | Clear |