Mack (2011)
Sale price:
US $5,000.00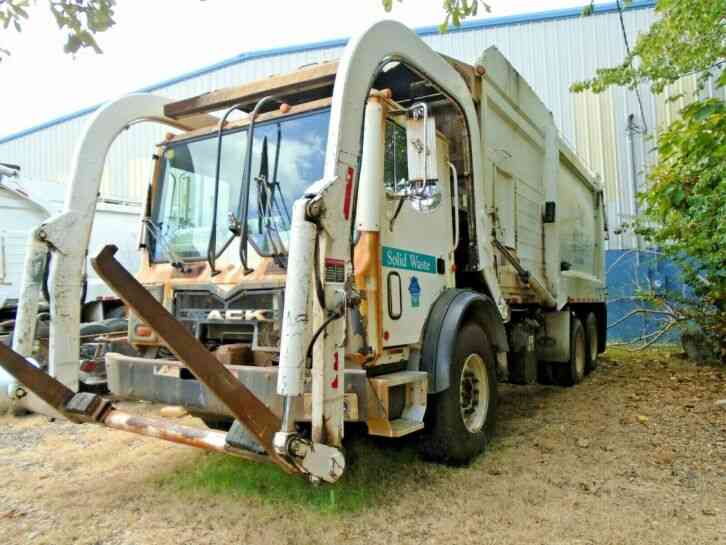 More Mack Duty Trucks
***CITY SURPLUS***
ORIGINAL MUNICIPAL GOVERNMENT OWNED
**PLEASE CALL OR MESSAGE US THROUGH WEBSITE WITH ALL YOUR QUESTIONS BEFORE YOU BID, WE CAN NOT USE THE APP **
***DESCRIPTION***
2011 MACK MRU 613 FRONT LOAD GARBAGE TRUCK
SN: 1M2AV02C1BM007799
HOURS: 9030
ENGINE : MP7
TRANSMISSION: AUTOMATIC
***CONDITION***
STARTS, RUNS & DRIVES
ALLISON TRANSMISSION
AIR COND ITIONER AND HEATER WORKS
RADIO WORKS
HAS NORMAL WEAR AND TEAR
HAS RUST SPOTS
TRUCK HAS AN OIL LEAK FROM FRONT OF THE MOTOR
THE INTERIOR IS IN FAIR SHAPE WITH SOME WEAR ON THE DRIVERS SEAT
PASSENGER SEAT IS IN POOR SHAPE
RIGHT FRONT TURN SIGNAL DOESN"T WORK
SEVERAL CAB LIGHTS AND TAIL GATE LIGHTS ARE OUT
TRUCK HAS AN AIR LEAK BEHIND DRVERS SIDE CAB
HAS EXHAUST LEAK AT FLEX PIPE
TRUCK HAS A HOLE IN ONE OF THE AIR TANKS
TIRES: 425-65R 22.5 (ARE IN FAIR CONDITION)
INTERIOR SLIGHTLY DIRTY
WINDSHIELD GOOD
Items are sold as is, no warranty expressed or implied
WE STRIVE TO LIST ITEMS FOR SALE WITH ACCURACY, WE NEVER TRY TO MISLEAD.
PLEASE CALL WITH ALL YOUR QUESTIONS BEFORE YOU BID
WE WILL NOT END THIS AUCTION EARLY
FOR MORE INFORMATION OR PICTURES, CONTACT GREG AT 501-321-6950 OR RONNIE AT 501-321-6954.
ITEMS MAY BE PICKED UP MONDAY THROUGH FRIDAY 8:00A.M. TO 4:00P.M.
PLEASE CONTACT US ONE BUSINESS DAY PRIOR TO ARRIVAL
SO THAT WE MAY PREPARE ALL PAPERWORK.
***PAYMENT & SHIPPING INSTRUCTIONS***
Payment is due within five days of auction closing .
Failure to complete purchase in this time frame will necessitate the items being relisted and sold again. Buyer is required to arrange and pay for any shipping or delivery. The only payment methods accepted will be PayPal, Cashiers Check, or COD.
Item will not be released until paid for in full.
Buyer is required to arrange and pay for any shipping or delivery cost.

Condition:
Used
Seller Notes:
"Truck runs and drives. Exterior of the truck has rust spots and chips in the paint. The interior is in fair shape but does have some worn spots on the drivers seat, passenger seat is in poor shape. The truck has an oil leak coming from the front of the motor. The front turn signal and several cab lights and tailgate lights do not work. The ABS light is on. Truck has an air leak behind the cab drivers seat and has an exhaust leak at the flex pipe. There is a hole in one of the air tanks. Tires are in fair shape. AC and heating work. The truck has been parked for about 4 months."
Year:
2011
VIN (Vehicle Identification Number):
1M2AV02C1BM007799
Vehicle Title:
Clean
Power Options:
Air Conditioning
Type:
Garbage truck
Fuel Type:
Diesel
Tire Size:
425-65R 22.5
Make:

Mack

Transmission Type:
Automatic