Pierce Pierce (2000)
Sale price:
US $2,000.00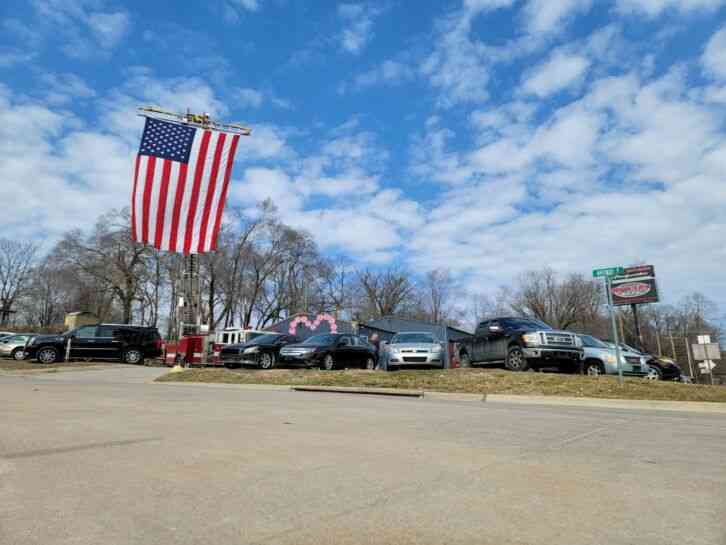 More Pierce Emergency & Fire Trucks
- Lift truck - Firetruck - Pumper Truck -
Talk about a cool float for your business at the next parade! This truck has so many uses. contractors to roofers to fire departments to farmers this truck is built extremely heavy duty and the outriggers give you tons of stability over those lifts and other bucket trucks.
Here is a link to a video walkaround of the truck (I had a little fun): here
-This is my personal description based on my experience with the truck. -Please ask any questions or message me to schedule a time to inspect the truck PRIOR to bidding. -Many more pictures available upon request. I can only upload 24 to the listing. -Please text message my phone (309) 337-1049 with questions-visit my website www.highlifeauto.com for more details (address, pics, etc)-Please do your inspection prior to bidding as all sales are final when the auction ends. -We own a small used car dealership in SE Iowa and will supply you with a clean title and a purchase agreement upon purchase.
First off, this truck is awesome! Lets start with just the basics, its a tandem axle (8 tires in the rear, 2 in the front). All tires have good tread. The transmission is an Allison 5 speed automatic and the engine is a 12.7 liter Detroit 60 series. We recently changed the engine oil and filter. I have not taken this vehicle on any long road trips as I had it shipped to me from WI where I purchased it. We have had it running for long periods of time up to 60mph and it runs, drives, stops, shifts, and idles well. The great thing about buying from a municipality is not only did they buy the best at the time, but kept every maintenance record of the vehicle"s entire history. We have all the owners manuals to every part of that truck from the lights, the pump system, the ladder, the engine, transmission, etc. All of the lights are sirens work as they should, including the air horn. We have tested all the hydraulic switches, levers, and functions, and can"t find any leaks or issues. The generator turns on with the flip of a switch and puts out plenty of power. The tank, I"m guessing, holds 300-500 gallons of water and the pump works great. My kids used it as a water cannon on our car lot as we were testing it and shooting it across the lot. There is some loose equipment still on this vehicle (ladders, hooks, etc) and I can supply an extra hose if needed, but only comes with what"s pictured. I do not know how or understand how to operate all the water control functions, but I was able to use the aerial hose and discharge water from the outlets. But I am not 100% certain how to operate all the features. However, the fire truck was in service up until we purchased it, so we ASSUME that everything works per fire dept. standards. The heat and ac both work well in the cab. This truck did come from WI and has some minor rust on the undercarriage. Nothing appears to be beyond surface or affect the integrity of the truck. I"m sure there are dings and scratches as per use, but nothing major that grabs attention walking around the vehicle.
This would make an AWESOME truck for parades, showings, any aerial roofing/contractor work and/or for a local fire department. This ladder is 75ft long and can hold up to 4 people with up to 1000 lbs at the top. The ladder swings a full 360 degree rotation and if you know anything about Pierce, they are built with steel with are very heavy duty. Overall, I think this is a great truck and wouldn"t hesitate to drive it across the country tomorrow except it would be a long, bumpy ride. And the max speed governs around 60mph.
We have a local farmer who owns a transportation company and we can arrange shipping nationwide. If you are unfamiliar with shipping an item of this size, my average has been about $3 per mile.
We own a used car dealership and are selling this as a used motor vehicle. Please be advised to inspect the vehicle prior to bidding to make sure this meets any local standards. As an Iowa dealer, we are required to complete all paperwork in our office. For any other method of signing papers, please contact us PRIOR to bidding to arrange per DOT laws. Payment is cash or wire transfer with a deposit due within 48 hours. Buyer is responsible for shipping. Ask for local recommendations as we have an excellent shipper who we have worked with in the past.

| | | | |
| --- | --- | --- | --- |
| Condition: | Used | Year: | 2000 |
| VIN (Vehicle Identification Number): | 4P1CT02S1YA000640 | Mileage: | 120337 |
| Type: | Fire Truck | Number of Axles: | Tandem |
| Engine Make: | Detroit | Suspension Type: | Air |
| Make: | Pierce | Model: | Pierce |
| Transmission Type: | Automatic | Class: | Class 8 (33,001 lbs. or more) |
| Fuel Type: | Diesel | Power Options: | Air Conditioning |
| For Sale By: | Dealer | Vehicle Title: | Clean |