Chevrolet Ambulance Wheeled Coach CUSTOM (2006)
Sale price:
US $100.00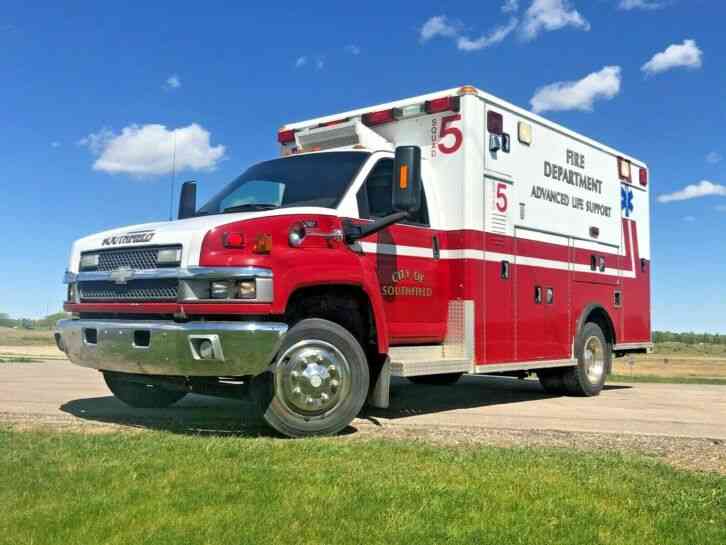 More Chevrolet Emergency & Fire Trucks
Complete Kodiak C4500 Ambulance Just retired, and totally completeReady to be put to work
I know there is a lot to take in here, but please read everything, and ask all your questions before bidding. We both want this to be a happy transaction.
YOU CAN FLY IN AND DRIVE THIS BABY HOME ANYWHERE!
NO RESERVE !If you bid on this, you could be the legal winner. Only bid if you have all your affairs in order to promptly pay and pick up the vehicle. NO EXCEPTIONS.This is an AS-IS WHERE-IS, ALL SALES FINAL AUCTION. NO RETURNS, NO WARRANTY
Features include:
Duramax 6.6L Diesel EngineAllison automatic transmissionFront and Rear heat and A/CAir Ride front seats, bothSpot lightPA systemFully functional sirensFully functional emergency lighting all LEDScene lightingRear air ride suspensionAir ride front seatsAll tires in very good conditionMultiple interior and exterior custom made cabinetsEXTREMELY loud air hornsFully FUNCTIONAL center console of ambulance accessories Electrical System monitoring for overload or low voltageHeavy duty AlternatorOn board electric air compressorOptional side window in rear *very rare*
I personally drove this ambulance over 330 miles over a couple days, and it functioned very well. The engine starts RIGHT up every time, with no smoke AND RUNS FANTASTIC. The Allison trans shifts very nice. The power windows, locks, mirrors, etc all work correctly. The cruise control works and was nice to have. NO LIGHTS ON, NO WARNING INDICATORS ON.This was a County vehicle and was obviously mechanically maintained impeccably.
PLEASE NOTE;YOU ARE BUYING A USED VEHICLE WITH 15 YEARS OF USE. USED means not flawless, not problem free, as-is, no guarantee, no warranty and NOT PERFECT!IF YOU WANT TO INSPECT EVERY INCH OF THIS PLEASE COME AND DO SO. YOU MAY DRIVE IT, YOU MAY HAVE YOUR MECHANIC LOOK IT OVER, YOU MAY JUST COME AND SIT IN FRONT OF IT AND PONDER LIFE FOR A FEW DAYS, BUT ONCE YOU ARE THE WINNER OF THIS AUCTION, IT"S YOURS. PLEASE DON"T WASTE MY TIME UNLESS YOU ARE READY TO COME, PAY, AND LEAVE.
I will bend over backwards to get you any pics or info you would like prior to you bidding, just ask!
Please, if you have any kind of problem with your feedback
(negatives, no feedback, or very low feedback)
CONTACT us before bidding, so everybody"s happy.
If you don"t contact us, we may cancel your bid because we don"t want our buyers to be bidding against a possible non-paying bidder. We want this auction to be fair. Thanks!
I HAVE THE CLEAN TITLE IN MY HANDS READY TO GO.