Kenworth W900 (1986)
Sale price:
US $5,000.00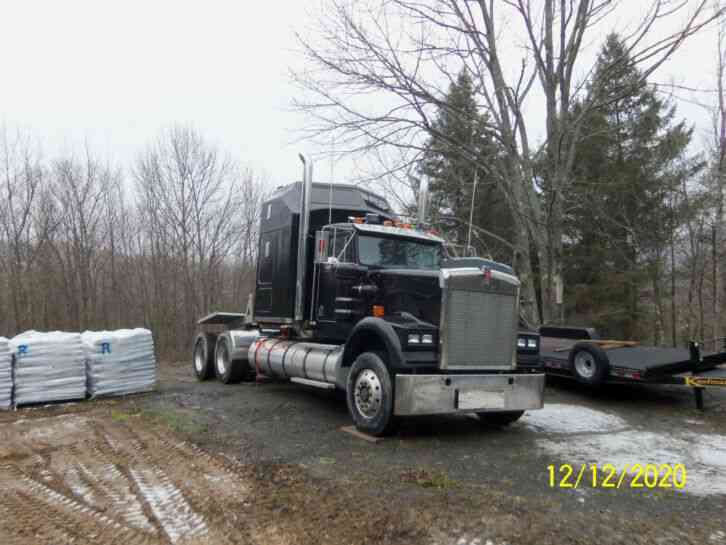 More Kenworth Semi Trucks
1986 Kenworth W900B tractor 360,000KM miles. I"ve been working on this project for many years.I call it the Beast, Governed @2800 RPM. It comes with a 500 Cummins big cam engine and 18 speed Road Ranger transmission. I drove it home from Williamstown, Mass. three years ago. All work performed on this tractor was done right. The frame and Peter Built rear ends have been sandblasted and painted.(8) new air bags and Michelin tires. The tires ( 275/80R/24.5) $5,000 + have 70 miles on them. The Michelin front tires (11R/22.5) are not new but, look just as good as new. All fluids have been changed: rear ends/transmission/engine oil/radiator(distilled water) and I recently purchased the new starter/new 1000CCW batteries(3)/ many new hoses and a brand new Fass fuel system installed. The $1100 radiator and thousands of dollars of brand new Kenworth parts that go with it are included in the sale. The cab and sleeper have been painted but, the interior of both are a work in progress. I purchased/installed all new LED lighting except head lamps.The reserve $ price set is about 1/3 of the money invested, not including labor. I wish you all good luck in bidding on this tractor.The Big Ben in the Pics. has already been sold.I put 50 gallons of fuel in each tank (150) prior to bringing it home.
The sleeper is temporarily installed on the mounting brackets and I believe that the rig should be shipped via tow/lowboy.