Peterbilt 379 Ext Hood (2003)
Sale price:
US $68,500.00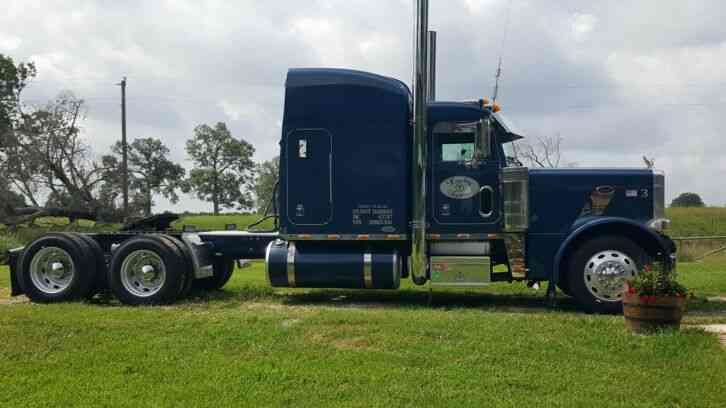 More Peterbilt Semi Trucks
2003 Peterbilt 379 550 Cat 18 spd American Classic . 2nd owner Retirement sale. Truck has 1.7 for mileage currently . Approx 300,000 miles on over haul no paper work. 600 Hp single turbo with a Pittsburg Power Programmer for a additional 150 + Hp if needed. Truck has been maintained by the retiring owner every 10,000 miles or less with full Synthetic Oil with a gallon of Lucas oil added at every change. Transmission is 3 years old with clutch oil cooler an rears an new Paint at the same time too include painted tanks. Just did a clutch adjustment & an changed Fluid in Trans an in rears. Brand new Rubber all the way around an steers. Brand new 8 inch Stacks an Pickett elbows. A new 10 or 12 inch drop visor an a new 20 inch square bumper. Just these items were $15,000 . Not counting labor . There are 8 Alum Pete wheels which I have polished every 6 months but my guy moved on me he also did front an back of Tanks so could not include. With the American Classic also comes Leather seats not torn either full gauge package p/w p/l tilt cruise an which I moved from dash to shifter knob for convenience. Has a Custom Alpine Stereo system XM Blue tooth that very loud if needed .As you can see a lot of custom things inside an out of this truck to many to mention. Retiring an don"t need my CB General Lee custom built 200 + watt from Sky Walker in NC an included high watt antenna. To include a Extra serpentine belt all Cat Filters extra an full bedding never used much head light bulbs an more. The truck is turn key an ready to roll any where with no issues .It is a 2003 an is not show room perfect in or out its a 2003 ! But extra Clean an maintained since new an runs out 100 % an gets attention where ever it goes an ran ever day up until Dec of 2021 as when I retired. I thought I would just keep the truck as I love it. I am going to list some of the flaws. Will need a Trumpet horn as the ones I had were horrible an I removed them .I would like to replace key tumblers in sleeper door an drivers door as the are sticky sometimes hard to turn might just be able to oil them ? No rust on Cab but a few paint chips here an there but some rust on Frame like most trucks" was going to replace frame rails in the back in a few years an go to 300 inch wheel base. Truck now I think around 275 to 280 WB, Sleeper inside is like new Cond truck an sleeper are both air ride . I am asking $70,000 but will take $68,500 for Truck .No less ! Don"t ask . Please don"t waste your time or mine .Today is the first day the Truck has been for sale. I am a private seller an express no Delivery or Warranties on this said unit .Buyer must make all necessary arrangements for trip permits to travel Interstate as I assume a State Bill of sale would be fine but don"t know. Please contact me [email protected] for any other Info an Contact.