Chevrolet 3500HD (2000)
Sale price:
US $8.50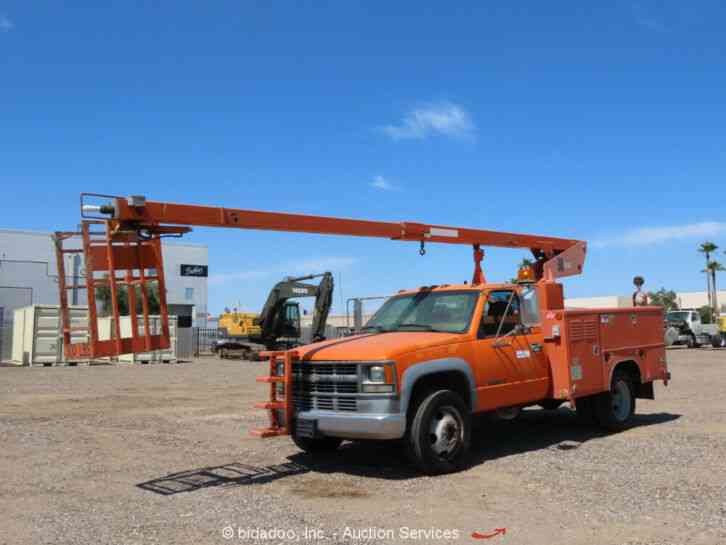 More Chevrolet Bucket / Boom Trucks
bidadoo Auctions Click to view the detailed equipment information of this item. bidadoo is the largest and most trusted online auction company delivering weekly no-reserve auctions of backhoes, skid steers, excavators, lifts, trucks, trailers, industrial tools and more. The largest and most trusted online auction company
on the world"s largest auction marketplace Browse By Category Aerial Backhoes Boeing Surplus Boom Lifts Cranes Dozers Earthmoving Excavators Reach Forklifts Scissor Lifts Skid Steers Transportation Trailers Trenchers Trucks Wheel Loaders Home Payment Shipping FAQ About Contact 2000 Chevrolet 3500HD 28" Aerial Utility Bucket Truck 6.5L Diesel - Parts/Repair Click to view the full item description including more photos and video.   SKU: 918070 A: 00130000002zo0b O: 0065000000OyOi4 PA: Sorry, your browser doesn"t support embedded videos. But you can download it and watch it in your favorite player.  View all 39 photos  Watch video 2000 Chevrolet 3500HD 28" Aerial Utility Bucket Truck 6.5L Diesel - Parts/Repair Make: Chevrolet Model: 3500HD Year: 2000 VIN: 1GBKC34F0YF495104 Mileage: 114,253 Transport Dimensions: 248 L x 92 W x 109 H Transport Weight: 8,000 lbs Location: Phoenix, AZ 85043 United States See financing options as low as $177/mo*  60 month term Details  Freight Estimate  Sell Equipment
Equipment Details Unit is being sold as-is for parts or repairEngine cranks but does not start - exact issues unknownBucket/boom was functional prior to engine failure - see videoTransmission was functional prior to engine failure - see videoUnit is in average overall cosmetic condition with normal wear from previous useSee photos for more details  Features  Air Conditioning  AM/FM Radio  Bench Seat  Hydraulic PTO  Amber Beacon/Flashing Work Lights  7 Round Trailer Plug  24 Basket  (6) Outside Storage Compartments Specifications  Drive Type: 2WD  Title: Clear  GVWR: 15,000 lbs  GAWR   Front: 5,000 lbs   Rears: 11,000 lbs  Transmission   Type: Automatic   Speeds: 4  Engine   Make: GMC   Model: V8 6.5L Turbo Diesel   Fuel Type: Diesel  Wheelbase: 145  Number of Axles: Single  Boom   Make: Lift-All   Model: LAT-28-1S-USM   Height: 28"   Capacity: 300 lbs   Type: Non-Insulated  Suspension Type: Leaf  Brake Type: Hydraulic Resource Links  View the photo gallery  Watch the equipment video  Request a freight estimate  View financing options  Sell your equipment with bidadoo  View all bidadoo auctions  Frequently Asked Questions Important Information Please Note: All items are sold "As Is, Where Is", with no warranty. Equipment details and related information is limited to sight, sound, feel, limited operational running and testing at low speeds, in a confined flat area, without load, and in limited operating conditions. bidadoo and our sellers / consignors make no guarantees of any information, including year, actual hours, miles, safety or regulatory compliance, weights and measurements, specifications and/or operational condition. Photos and video take priority if there are discrepancies within this listing. Weights, dimensions, features, specifications, resource links and all other information are provided as general guidance, are approximate, and may vary from year to year, model to model and machine to machine. Buyer acknowledges they are experienced with this type of equipment and buyer is responsible to service, repair and maintain all items purchased to a safe operating condition and obtain all permits and certification required by law for use. See additional terms and conditions of this sale in the "Legal" section of this sale offering.
The bidadoo 100% Guarantee enables the buyer to return this item to the selling location for a full refund of the purchase price if this item was not accurately described and represented. Shipping, repairs and any other costs beyond the purchase price are not covered by the bidadoo 100% Guarantee – please plan and bid accordingly. Due to the nature of used equipment, the bidadoo 100% Guarantee is not a product guarantee or product warranty. See bidadoo 100% Guarantee details below. Payment, Shipping and Fees: Buyers will be assessed a $126.20 administrative and handling fee.  This fee does not include any shipping charges.  For shipping charges and options, please see the Shipping & Fees tab (below) for more details including the location of the item. We accept PayPal for items selling up to $1,500, for more details please see the Payment tab (below). Vehicle Registrations, Titles, Deposits and Disclaimers:  This vehicle may be subject to a $500 non refundable deposit within 24 hours of the end of the auction. Collection of applicable taxes, license, title, tonnage, trip permits and vehicle registration fees for any titled items will be in accordance with the laws of the state where the item is located, and be paid by the purchaser. Out of state purchasers of licensed items will be provided the necessary documentation needed for transfer of ownership where they reside, where they may pay taxes and registration and title fees in their state of residence. These fees, if applicable, may be added to the purchase. Please call or use "Contact Seller" if you would like additional information or estimates. Some vehicles may require up to 45 days for original title. A $126.20 minimum Documentation Fee to be added to this auction. This item will not be sold with a license plate. It is the buyer's responsibility to provide trip permits and all paperwork necessary to legally transport this item on public roadways. bidadoo can help facilitate the necessary paperwork on request. Any license plate that may be visible in photos will be removed prior to sale. By federal law, vehicles more than 10 years old are exempt from odometer disclosure. As of January 1, 2021 for vehicle models 2011 or newer, the exemption is 20 years. In some cases the mileage shown on the odometer may be underreported if the mechanical limits of the device are exceeded.  bidadoo expressly disclaims the accuracy of odometer readings. Such information may not be used or relied upon for bidding purposes or for any other reason. All vehicles are sold as is - where is. Shipping & Fees Payment Sales Tax 100% Guarantee Financing Legal This item will ship via flatbed truck   Click here for a shipping estimate  This item is located in Phoenix, AZ 85043 Preview and pickup of this item is available 8:00am to 3:00pm Click the Contact Seller link above to schedule a preview of this item or ask questions Preview and pickup location: 5757 W Jefferson Street Phoenix, AZ 85043 Please submit a request for a shipping estimate prior to your bid using the links in the auction Buyers will be assessed a $126.20 administrative and handling fee If required, a packaging and handling fee may be applied for any buyers that arrange 3rd party shipping Unless otherwise stated above, full payment is due within 3 calendar days after the close of auction or sale (for example, if an auction ends Tuesday, payment is due by close of business Friday). If an item is unpaid after 3 calendar days, the item may no longer be available for purchase and a Non-Paying Bidder alert will be filed with eBay.   For Winning bids of $10,000 and higher we accept: Bank ACH Transfers Bank Wire Transfers Payments via www.escrow.com (an CONTACT US 206-442-9000 [email protected] BUYERS View All Auctions Loaders Excavators Dozers Buyer FAQs Skid Steers Scissor Lifts Boom Lifts Boeing Surplus SELLERS Request an Appraisal Copyright © bidadoo, Inc.
Condition:
Used
Seller Notes:
"Please see full equipment details in Description, including photos and video demonstration."
Year:
2000
VIN (Vehicle Identification Number):
1GBKC34F0YF495104
Mileage:
114253
Coverage Provided:
bidadoo 100% Guarantee
Suspension Type:
Leaf
Administrative & Handling Fee:
$126.20
Model:
3500HD
Make:

Chevrolet

Vehicle Title:
Clean
Transmission Type:
Automatic
Engine Make:
GMC
Number of Axles:
Single
Transmission Speeds:
4
For Sale By:
Dealer