Volvo (2011)
Sale price:
US $25,000.00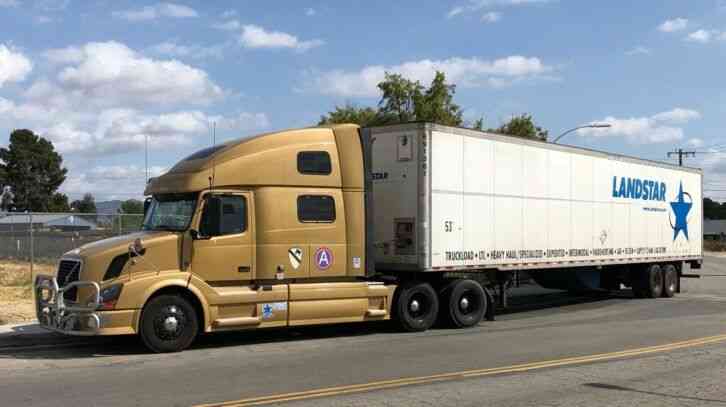 More Volvo Semi Trucks

I got into trucking right out of the Army and picked her up for $95K with about 300k miles on the dial. She has had over $145K In maintenance and upgrade in the last 5yrs. $21K in 2018 and about $9K in 2019. I have ALL recipes and documentation to back everything up which will go with the truck. A LOT of major parts and work is still under Volvo dealership warranty. I'm incredibly OCD on keeping my equipment clean, always ready to work, and in outstanding/peak working performance! Bring your best damn mechanic to check her out. I first drove about 600K+ at 55mph and would save an average of $1,300 in diesel a week going from Commerce, CA to Indianapolis, IN and saved a lot more on wear and tear. Once ELDs kicked in, I drove her at 65mph average. If she needed something, I had it repaired immediately.
She basically has her overhaul done the last couple of years. I did it in sections so that I could afford it. Just this year alone she has had a new Turbocharger $6K at Volvo, new EGR, 7th injector, and the ENTIRE new DEF system installed including a new filter (9K+ of work!). All still under warranty. I have always ran virgin tires all around with $2K of drive tires just added a couple of months ago. Two new steer tires last year along with the entire front suspension system (leaf springs ext). WAY too much work done for me to type out here. If you come by to take a look, please be prepared for me to talk nonstop for 3hrs of ALL the work I've done. I want you to be well informed on what you're getting on your investment. Nothing to hide, no funny noises, NO BS. I don't have time for it and I'm sure you don't either.
No known mechanical issues to note with exception to a very small oil leak from a seal on the drip pan from time to time. Does not burn oil and everything works as it should. New A/C system ($1.5K), new Volvo refrigerator ($1.2K), new windshield, new radiator, new starter, new 5th wheel, new front hubs (L&R), new injectors, new engine wire harness, the list goes on and on, and on!!! No joke.
The ONLY reason why I'm selling is because I just purchased a brand new 2020 VNL860 for $189K. To be completely honest, the 2011 drives just the same as the 2020 with the ONLY difference being in interior and some exterior cosmetics. Some fancy new LEDs and the 2020 is automatic. The fuel mileage is a little better but the 2020 in incredibly sluggish trying to get up to 65mph but that's probably the truck trying to save fuel :/ I wanna go back to the 2011 lol.
Recently passed a DOT level I inspection with master mechanics. Was with Landstar so DOTs where done every 3 months. Breaks are in very good shape, I usually use the air breaks along with regular breaking to save the main breaks as much as possible. New belts, wheeles/pulleys, thermostat, cooling hoses, cabin air filters, again, the list goes on and on.
Synthetic oil used with one gallon of Lucas every 12/15K miles. Yes, I know I could wait till 20/25K miles for oil changes but it kept me mentally at easy doing it a lot earlier, have never had any issues with the interior of the engine so I guess it worked well.
Comes with new ELD and manuals and codes for ELD.
She's INCREDIBLY dependable! Has never left me on the side of the road and has never disappointed me other then when I got a final price on work and parts :/ but that's expected as an owner operator from time to time.
Despite my OCDnes, I still had her interior detailed professionally last week (took 3 days!) so she's as good as new. She comes with a 34 inch flatscreen TV that I installed a year ago. Incredibly comfortable and spacious interior (Volvo is the Caddy of semis). She'll just need a new mattress for the top bunk, but other then this, she's complete. LOTS of storage, comes with fire extinguisher, box of triangles, ready to hit the road and go to work for another million+ miles. Very minimal rust, I spent a lot of $ on truck washes after driving through snow to remove salt deposits during winter. Salt eats away at rubber seals (air and oil) so I was very cautious.
VERY low idle hours!!!! I ONLY idled her to warm up before driving (usually an average of 15/20 min to do a pretrip). I added a cabin heater so I wouldn't have to idle her like most truckers during the winter. Definitely a life (and big $) saver! In the summer I would make sure to schedule my driving for the day and sleep at night and take advantage of the coolness and run a fan. I was always cautious on unnecessary wear and tear.
I truly loved this truck and my records and money spent and most importantly her interior and exterior shape will prove this. She fed my family, helped us purchase our first house, put my kids through school, and even gave me some extra cash for my hobbies in my garage ;) I took care of her, she took care of me.
Clean California title in my name. If you want more pictures or videos of the engine or have any questions, please feel free to ask. I stand by my truck with pride as I did my Bradley tank in the Army. Always ready to go to battle and back!
Mileage is 1,24X,XXX
Possible trade for a HUMVEE, classic car, motor home, or??