Chevrolet (1958)
Sale price:
US $7,500.00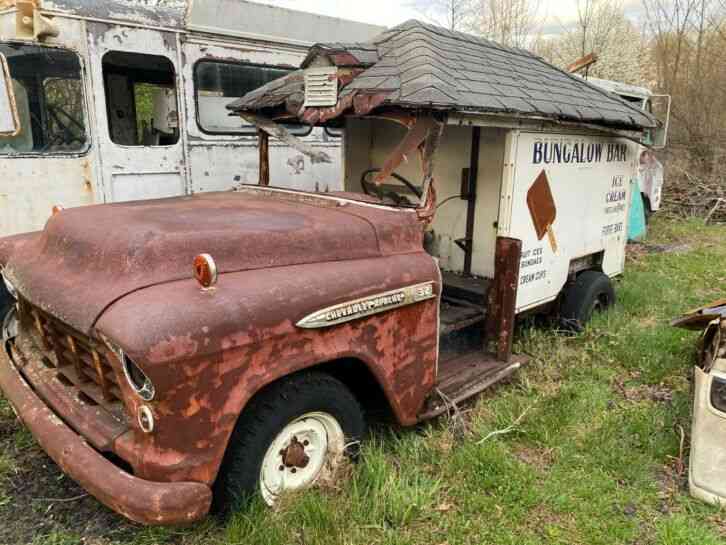 More Chevrolet Van / Box Trucks
BARN FIND !!!!!!!!
1956 Chevy Apache 3100 BUNGALOW BAR ICE CREAM TRUCK SUPER RARE !!!!
6 Cylinder 3 Speed on the TREE (column).
What we have here is an opportunity to own a piece of Americana. And make money after it"s all said and done.
This opportunity to own this rare truck has endless ways to make a return on your investment.
Not to many vintage ice cream trucks out there anymore. Especially, the funky looking Bungalow Bar truck which roamed the streets of New York during the 1950"s and 60"s.
I have been around these style ice cream trucks for over 4 decades and I am responsible probably for the start of the preservation and restoration of countless vintage ice cream trucks which may have been otherwise sent to the wrecking yard.
Basically, I started a trend back in the early 90"s which opened a lot eyes. Many free wheeling business men seen my finished product and wanted to be part of it too.
With that said, this truck is not for everyone. You must be a person with vision and see through all the things that might scare the average person away.
Make no mistake these trucks like any car project entail; time and money. Unlike a car project, ice cream trucks especially vintage trucks make money. Show me one vintage muscle car or antique car that makes money while sitting at a car event. I thought so, you cannot.
I have a world of experience restoring these trucks and know countless secrets how to fix them up and yes, get the porcelain box looking like new.
Don"t be scared by the way the truck appears in the pictures because it"s been off the road and needs to be brought back to life. My advice only goes to the winner.
Included in the sale could be spare parts if agreed upon ie.. fenders, hood, ice box handles etc..., price for the parts and possibly, a full apache pick up truck can be discussed.
I have an excellent feed back on and that speaks for itself.
My contact info is in the VIN # section above.
CHECK OUT MY OTHER TRUCKS ON EBAY.
I will only accept 100.00 via pay pal and that is for a deposit. Rest of money either wire transfer or cash in person.
SORRY, there was a typo in the Year. The Bungalow Truck is a 1956 Chevy. NOT, a "58.