VOLVO VNL D13 Auto I-Shift, Sleeper, Cottrell Car Hauler (2014)
Sale price:
US $719.00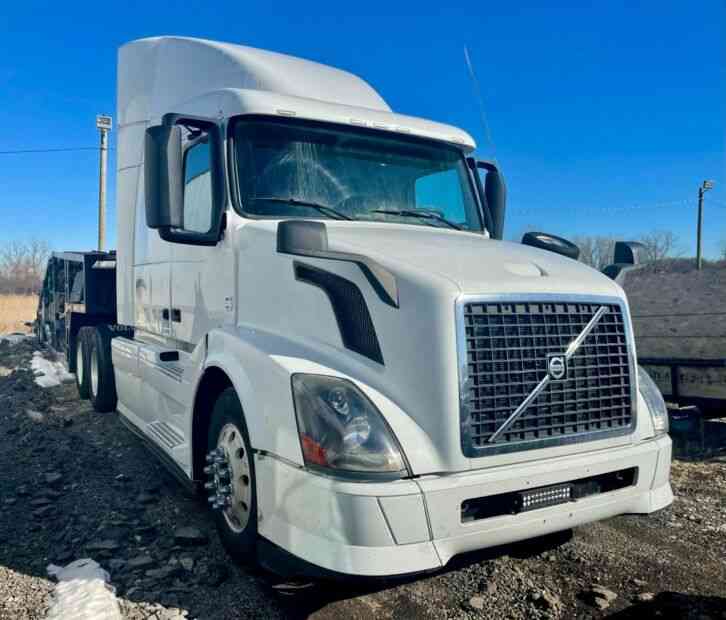 More VOLVO Semi Trucks
Tractor Vin# 4V4NC9EG9EN164708
Trailer/Car Hauler Vin# 1C9AQ1649SG148184
*More Pictures at the Bottom of the Description! Please Read Entire Description.
FOR SALE Semi Tractor and a Car Hauler, Bid! No Reserve!
2014 VOLVO VNL D13 Conventional - Sleeper with an Automatic I-Shift Trans, and a 1995 Cottrell Easy Loader 7 Cars Hauler. Original 1995, its been overhauled and refurbished back in 2014, With full Hydraulic System PTO. PTO Buttons are inside the tractor.Both Tractor, and Trailer are in an excellent Condition and Ready to Hit The Road!Only 717,817 Miles.Don't miss this amazing deal, Truck and a Car Hauler For Sale. Give me a call and make me an offer.
(248) 790-1144 Ask For Adam,
NO Reasonable Offer will be turned down.
The same truck and a Car Hauler, with same options & mileage retail for no less of $65000, cut out the middle man and get it here for way less!
Click to Watch the You-Tube video below!Using the App? Copy and Paste link ( here ) into a browser window. Or just Click on the Video Below. YouTube
Video will open in a new window
Using the App? Paste link into a browser window:
[isdntekvideo]
* ** ** ** ** ** ** ** ** ** ** ** ****
2014 VOLVO VNL W/ 1 BEDS, VOLVO D13 ENGINE, ENGINE BRAKE, ISHIFT TRANSMISSION, AIR RIDE SUSPENSION, FRONT AXLE, REAR AXLE, 2.64 RATIO, 22.5LP TIRES, OUTSIDE ALUMINUM WHEELS, AIR SLIDE FIFTH WHEEL, 224 WHEEL BASE, SINGLE EXHAUST, LH 150/RH 100 ALUMINUM FUEL TANKS, WHEEL-TO-WHEEL FAIRINGS, VISOR W/ LIGHTS, AERO BUMPER W/ FOG LIGHTS, SPOT HOOD MIRRORS, DUAL AIR RIDE SEATS, POWER WINDOWS, HEATED/MOTO MIRRORS, AM/FM/CD, AUX Input, TILT/TELESCOPIC STEERING, WORKSTATION, AND INSPECTED WITH ONLY 717817 MILES!!!
Condition:UsedYear:2014Make:VOLVOModel:VNLClass:CLASS 8 (GVW 33001 - 150000)Category:Conventional - Sleeper Truck, TractorCab Type:STANDARD CABLocation:Brown Town, MIHorse Power:450Max Horse Power:350-500Max Torque:1450-1850Fuel Type:DieselAxles:TANDEMRear Axles:TandemSuspension:VOLVO AIRVOLVORear Axles:TANDEMBrake Type:AirVIN:4V4NC9EG9EN164708Drivetrain:6X4Engine:VolvoEngine Model:Volvo D13 12.8L I6 350-500hp 1450-1850ft. lbs.Engine Size:12.8LWeight:Over 33001Transmission:VOLVO
Front Tire Size:22.5Color:WHITEFuel Tank Size:100Interior Color:Brown
*Deposit must be paid as soon as the auction ends OR offer accepted !!
*This Vehicle is Being Sold As "AS IS- Where IS" - All Bids Are Binding and All Sales Are Final.
*Buyer is responsible for vehicle pickup or shipping.
*Deposit is Non-Refundable.
*I Reserve the right to end this auction/sale at any time.
*More Pictures below!
**Serious buyers/bidders only!!
Please read the entire listing before placing a bid or an offer; if you still have any questions about the listing give me a call or message me. When you bid and don"t have your financing in order you will ruin a good auction for serious buyers. Please bid only if you are serious about buying. If you win the auction and don"t pay, your account will be reported to e-bay for nonpayment. I have a Zero tolerance policy for people who ruin auctions thanks. .
**When picking up the vehicle (Out-of-state Buyers & Michigan resident) You are responsible for paying your sales tax, title and registration fees when you register the vehicle in your home state.
If you have any questions or need more information please feel free to
call or text me 248-790-1144 ask for Adam.
Frequently asked questions:
Don't see your questions listed? Call, Text Or Message me on E-bay, I will answer any questions. My goal is to have a happy customer. Transparency is my priority, purchasing a vehicle is a big decision, and I strive to make your purchase an informed one.
Where did this scratch come from?
I work really hard at photographing the car from EVERY angle; I upload videos and even facetime people who want a closer look. When there is a dent or scratch that I am aware of I photograph it up close and point it out. However there can be very minor scratches or dents that I am unaware of, due to normal wear and tear associated with pre-owned vehicles. After all, it"s a used Vehicle!
Can I test drive it, or inspect it?
Yes! Give me a call, especially for local bidders, 3rd party inspections are welcomed. My goal as a seller is to be as transparent as possible, I want you to feel comfortable and confident when you bid.

Condition:
Used
Seller Notes:
"MORE IMAGES IN THE DESCRIPTION BELOW, Please Read entire Item Description For More INFO! 2014 VOLVO VNL D13 Automatic Trans, With a 7 Cars Hauler, Turbo DSL, LOW MILES! only 717817. Clear/Clean Title. NICELY LOADED! DOESN'T NEED A THING, Bid! Or Make an offer, NO Reasonable offer will be turned down. If you have any questions please call Adam at 248-790-1144 Thanks! Using The eBay App Or Mobile Browser? Please Click on (Read More) Below!"
Year:
2014
VIN (Vehicle Identification Number):
4V4NC9EG9EN164708
Mileage:
717817
Transmission Speeds:
AT2612D 12 speeds
Engine Make:
Volvo
Model:
VNL D13 Auto I-Shift, Sleeper, Cottrell Car Hauler
Class:
Class 8 (33,001 lbs. or more)
For Sale By:
Private Seller
Suspension Type:
Air
Vehicle Title:
Clean
Fuel Type:
Diesel
Type:
Semi - Sleeper Conventional
Engine Horsepower:
450 HP ECO-TORQUE
Tire Size:
22.5"
Make:

VOLVO

Options:
CAR HUALER FOR SALE TOO, Sleeper models
Number of Axles:
Tandem axle (6x4)
Power Options:
Air Conditioning, Cruise Control, Power Windows, Power Seats
Transmission Type:
Automatic